The Passport Office will beginning issuing blue passports from March 2020 they have recently announced. The blue passport was replaced with the burgundy passport in the late eighties.
Will I get a new blue passport?
Now that the UK has left the EU the new blue passport will be phased in in early March and by the middle of the year all renewals and new applications will receive the new blue passport.
The colour is not the only change. For the first time ever the back cover will display its own symbolic design – the floral emblems of England, Scotland, Wales and Northern Ireland will be embossed.
The carbon footprint produced through manufacture will be reduced to net zero through projects including tree planting making it the greenest passport ever.
Home Secretary Priti Patel commented:
"Leaving the European Union gave us a unique opportunity to restore our national identity and forge a new path in the world."

"By returning to the iconic blue and gold design, the British passport will once again be entwined with our national identity and I cannot wait to travel on one."
The new passports will be even harder to forge using the most secure design and printing techniques. It will also be the most technologically advanced passport with a hard wearing super strength poly carbonate data page which contains innovative technologies designed to keep your data safe.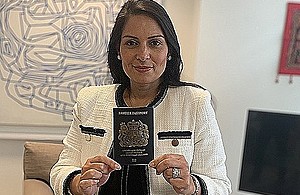 For people who have an existing burgundy passport it will still remain valid until the expiry date shown in it. The new passports will have a standard 34 pages and the jumbo passport for frequent travellers will contain 54 pages.