Welcome to Passport Waiting Time.
Current average passport processing times are displayed below.
How does this work?
We collect data via our website and also Twitter to provide you with an estimate of how long you are likely to have to wait to receive your UK passport. Whilst it is not a precise indication of when you will get your passport back it will certainly give you some idea of how long you may need to wait based on other people who have recently applied and received theirs. We calculate an average of the last 31 days of user tweets  and website submissions to display a figure in days. The figure shown is for a standard application and not the premium or fast track service that the GOV.UK offer.
Waiting for you passport, especially if you have already booked your holiday, can be very stressful so we hope our site can go some way to give you an idea. If you have used this site to find out the current passport processing time then please do come back when you receive your passport and submit how long it took to arrive. The average we provide is only possible from user submissions and the more we receive the more accurate our figure is.
How long does it take to get a UK passport?
Times can vary depending on time of year and certain individual circumstances. We work out an average of how long it takes to get a UK passport from our user data. The average waiting time shown is for people that have made a standard (non expedited) application. Gov.Uk website state that it takes 3 weeks to get a UK passport and also advise not to book any travel until your passport arrives which is good advice. As you can see from the average waiting times above the actual passport processing time is quite a bit quicker.
Who are we?
We are a friendly bunch who love to travel and wanted to create a UK resource to relieve the stress of the British public. We are an independent company and are no way connected to the UK Home Office (sorry, we had to get that in) but hopefully through crowd sourcing we can provide you with an excellent resource not only for passport waiting times but also we will be offering lots of other travel advice provided by ourselves and our contributors. (like to be a contributor? click here)
How can I contribute and why?
You may wonder why people would want to contribute and tell us their passport waiting time but there are a couple of reasons why. Firstly, this site would not work without the contributions from other users. The reason you are here is because you want to know how long your passport will take to arrive. As we Brits are generally nice people and always like to stick together when we travel then why not help each other. If you have received your passport and have used this site then why not help others and be part of our calculation.
Secondly, we have created lots of interest with our concept in the travel industry and by contributing you will be in line for some nice travel treats that we are negotiating with travel industry providers.
How long did you have to wait to receive your passport. (only for standard applications, not premium or fast track. Enter the total number of days (inc weekends) in the box above.
Keep your passport in immaculate condition with our best rated passport holder.
Current Average UK Passport Processing Times:
First Adult Passport
18 Days*
(Updated 27th March 2020)
Adult Passport Renewal
14 Days*
(Updated 27th March 2020)
First Child Passport
15 Days*
(Updated 27th March 2020)
Child Renewal Passport
14 Days*
(Updated 27th March 2020)
COVID-19
Her Majesty's Passport Office have stated that due to staff and customer social distancing applications may take longer than normal. The times above are crowd sourced with data from applications prior to this announcement so actual times may be longer than stated above due to the current situation.
All of the times shown are averages that have been crowd sourced from other users via this website and also Twitter. We are are an independent website and have no association with Her Majesty's Passport Office.
Contribute to Passport Waiting Times
There are 2 ways to share your experience. It you are an avid Tweeter you can simply use the hashtag #passportwaiting and tweet the number of days (not weeks) it took for your passport to arrive from your application. If you would rather be more anonymous you can fill out the form in the right margin of this page.
What is the average waiting time for a Passport?
The figure in our title above shows you the latest average waiting time for a UK passport. This is updated on a daily basis after a calculation of the last 30 days of user data.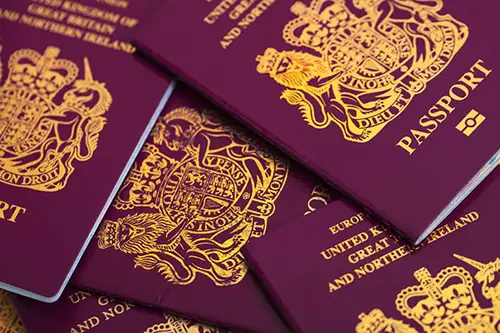 Methods of Passport Application
Our passport waiting time calculation is based on times waited for passports that are applied for online and at the Post Office. It does not include visiting the Passport Office and completing a same day application which is often done in emergency situations.
Types of Passport Application
We provide average passport processing times for Adult Renewals, First Adult Passport and First Child Passport. Generally these times are not too far apart but by crowd sourcing we can provide a fairly accurate passport turnaround time for each type of application. Her Majesty's Passport Office do offer guidelines for each of these passport applications but this does not reflect busy times of the year whereas our average is updated every 2 to 3 days depending on amount of data received.
How long does it take to renew a passport?
The current average wait time to renew a passport is 14 days as of March 2nd 2019. We display data for UK adult passport renewal and also child renewal processing times. The renewal time is calculated from submitting your online or postal application to the date that you actually receive it back. Passport renewal times do tend to be very slightly quicker than first passport applications according to the data we receive. The figure in the table above show current renewal times which is updated every 2-3 days.
Why is my passport application taking longer than the average shown?
The figure shown is an average so does take in to account some people receive theirs in a matter of days whilst others have to wait weeks. We do not have any information as to why some take longer than the stated average. As we only crowd source data and are not in any way associated with the passport office we do not have any information as to why some people have to wait longer than others. If you have are waiting longer than you expected then you may be able to find help on our forum where other users share their experiences and individual circumstances as to why they have had to wait longer. You can view a post here about this.
How to get a dog passport
If you are looking for information about getting your dog a passport and other dog related travel info we recommend you visit our partners at dogowner.co.uk