Key Takeaways –
Travelling with a dog can be an incredibly rewarding experience but requires careful planning.

It is important to ensure that your pet is properly vaccinated and has all the necessary paperwork.

Make sure to research and book pet-friendly accommodations ahead of time, so you have somewhere suitable for your dog to stay.
Are you and your furry friend planning a trip abroad? Taking your pup with you on an international adventure is a great way to bond, but it requires some extra preparation.
You'll need to make sure they have all the necessary vaccinations, paperwork and other requirements before heading out.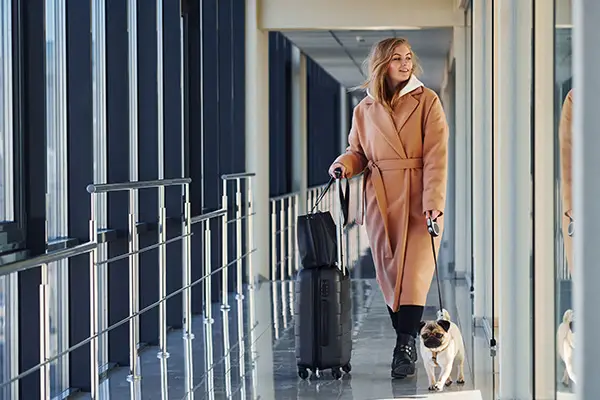 Plus, there are plenty of packing tips and advice for travelling safely with your dog that you should know about. Lastly, not everywhere will be pet-friendly, so it's important to plan ahead when searching for accommodations.
With this guide, you can rest assured that you and your pooch will have a safe and enjoyable journey.
Travelling into The EU with your dog
As of January 1st, 2021, dog owners need an Animal Health Certificate (AHC) to take their pets across INTERNATIONAL borders when travelling from a non-EU country [1].
This certificate is a document issued by an OFFICIAL veterinarian that states the animal has been vaccinated against rabies and is free from infectious or contagious diseases (this may require a blood test). It also identifies the animal and describes its breed, age and weight.
It also confirms you are not taking your dog abroad to sell it or to participate in an animal show. AHCs are valid for up to four months, and they need to be issued at most 10 days BEFORE the date of travel [2].
In addition, pet owners should check with their airline or ferry operator regarding any additional requirements for travelling with a pet within the EU.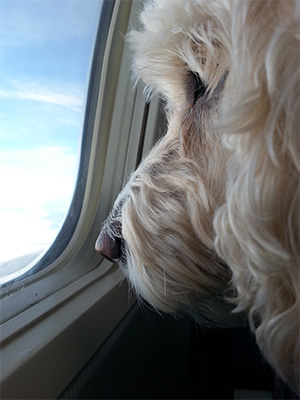 Applying for an Animal Health Certificate
Applying for an AHC is a STRAIGHTFORWARD process; you can apply through your vet. Your vet will provide you with an application form that needs to be completed, and they will also need to give your pet a full examination.
They may also require ADDITIONAL vaccinations if it's been over six months since the last one. 
On average they will cost around £200 [3]. Once you have completed the application form and paid any fees, your vet can issue the certificate.
You may need to get your dog microchipped as well. This is a requirement in some countries, and it also helps authorities identify your pet in case they get lost during the trip.
It's IMPORTANT to note that AHCs are only valid four months after issuance, so always plan ahead.
Pro Tip: It is important to note that some EU countries ask for tapeworm treatment as part of the AHC. This should be done at least 24 hours and at most 5 days prior to your dog entering the country.
Travelling outside of The EU with your dog
Generally, you will need an Export Health Certificate (EHC) for your dog to travel outside of the EU [4]. This document is also known as an International Health Certificate and needs to be ISSUED by a government-approved veterinarian.
The EHC states that your pet has been EXAMINED and is deemed fit for international travel; it also lists all the vaccinations and treatments your pet has received. It also checks all the vaccinations are up to date.
The certificate also contains INFORMATION about the animal's breed, age, size and other relevant details. It is valid for four months after issuance, so always plan ahead to ensure you have enough time before your intended travel date.
It is important to note that some countries and airlines may have more strict requirements, so check with your airline and the country you travel to BEFORE departure.
Pet Passports
With the UK leaving the EU, passports issued by Great Britain are NO LONGER valid from January 1st 2021 [5]. If you're travelling to a nation that accepts pet passports, you must obtain a pet passport for your dog.
To be eligible, the passport must have been issued in any of the following locations:
An EU Country
Iceland
Greenland
Northern Ireland
Andorra
Gibraltar
Faroe Islands
Norway
Monaco
Liechtenstein
San Marino
Vatican City State
Switzerland
Your pet also must have received a rabies vaccination within the last three years and a microchip implanted before travelling internationally. 
You will need to provide proof that your dog is in good health from an approved veterinarian when you arrive at your destination country.
Pro Tip: Travelling from the UK will now acquire an AHC rather than a pet passport, so check the requirements of your destination and apply for an AHC in advance.
Pet Travel Scheme (PETS) Passport
The Pet Travel Scheme (PETS) Passport is a specific type of passport issued by the UK government to allow pet owners to travel SAFELY with their pets abroad [6].
This is NO longer a requirement for pet owners travelling to EU countries as of January 2021, but it is still valid for travel outside the EU. The PETS passport has now been replaced with the AHC for travelling to EU countries.
Pet Insurance
When travelling with your pet abroad, it's ESSENTIAL to ensure they are covered by travel insurance. This will help you cover any unexpected medical costs that may occur while travelling in the event of an accident or illness.
It's important to check what's INCLUDED in the policy, such as vet fees, repatriation, cover for lost or stolen pets, and public liability.
Be sure to check out your insurance company's policies to make sure you get the BEST coverage for your pet. 
The price will vary depending on the duration of your trip and where you are travelling to, so be sure to look around to find the best deal.
Pro Tip: Be sure to check any exclusions in the policy, as some may not include cover for pre-existing conditions or treatments that may be required before travelling abroad.
Travelling options with your dog
Once you have all the necessary paperwork, it's time to decide how to get your dog abroad. Depending on where you are travelling from and to, there will be different TRANSPORT options available for your pet.
Dog travel arrangements should be made well in ADVANCE to ensure that everything is in order before you leave.
Flying with your dog
Most airlines accept pets in the cargo hold, so it's important to check with the airline you are flying with for their specific pet travel POLICIES. In the UK, British Airways [7] and TUI are the only airlines that accept pet travel in the cabin.
This can cost anywhere from £800 – £4000 depending on the airline and size of your pet.
When booking your flight, be sure to let the airline know that you will be travelling with a pet in case they have any ADDITIONAL requirements. Some airlines may also require an animal health certificate, so check this beforehand.
Also, most airlines will have RESTRICTIONS on the size of your pet's carrier and its overall weight. Be sure to double-check these requirements before booking your flight.
Pro Tip: Make sure you are aware of any additional fees associated with flying with a pet, as these can vary greatly from airline to airline.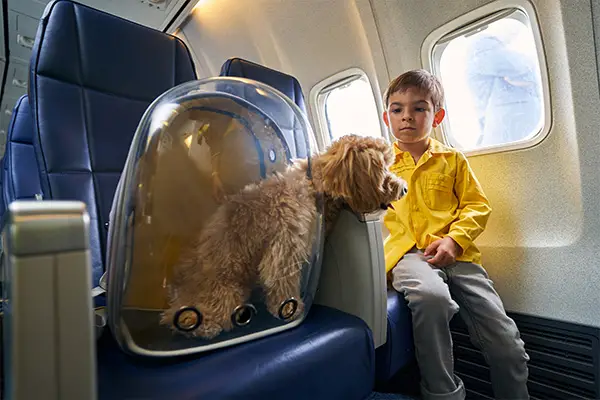 Driving with your dog
If you are planning on driving to your destination, it's important to remember that your dog needs a SECURE place to stay during the journey.
Be sure to invest in a car crate or kennel for your pet, as this will not only keep them SAFE and secure but also provide some much-needed comfort during long car journeys.
It's also a good idea to plan for REGULAR stops so your pet can take toilet breaks and get some exercise (both you and your dog). This is especially important if you travel with a larger dog that may need more space to move around.
Pro Tip: Be prepared for car sickness – some pets may feel unwell during long car journeys, and it can be helpful to bring along a few essentials.
Travelling by ferry with your dog
Ferries are another great option for travelling with your pet. Most ferry services allow pets onboard as long as they have all the NECESSARY paperwork.
When booking your tickets, be sure to let the ferry service know that you will be travelling with a pet in case there are any additional requirements or FEES associated with bringing a dog aboard [8].
Taking your dog by ferry would averagely COST around £20 – £50, depending on the size of your pet, but be sure to check with the ferry companies for their exact rates.
Packing for your trip with your dog
When travelling with your dog abroad, it's important to be PREPARED and pack all the essentials before you leave. Here is a list of items that you should consider packing:
Collar and leash
Food and water bowls
Toys and treats
Dog bed
Vet paperwork
First aid kit
Waste bags
It's also a good idea to bring along some familiar items from home, such as a favourite toy or blanket, as this will help your dog feel more comfortable and secure during the journey.
Finding dog-friendly accommodations everywhere you go
Once you arrive at your destination, the next step is to find dog-friendly accommodations. This can be done by CHECKING websites like Booking.com and Airbnb, which both list a variety of dog-friendly properties in most cities.
Do your research BEFORE and use blogs to find honest opinions about the property. Many hotels and vacation rentals have pet policies that you should be aware of, such as extra fees or restrictions on pets in certain areas.
You can also make SPECIAL requests to hotels or guesthouses directly by phone or email. Be sure to let them know ahead of time that you will be travelling with a pet so they can prepare for your arrival.
Pro Tip: Check the local laws and regulations regarding pets before booking any accommodation, as some countries may have stricter rules than others.
Tips for keeping your dog safe and comfortable on the road
When travelling with your dog, there are a few things that you should keep in mind to ensure their safety and comfort.
Always keep them on a leash when walking in public areas, as this will help avoid unnecessary problems or accidents.

Make sure your pet is wearing an ID tag with their name and contact information in case they get lost.

Be aware of the local climate and terrain at your destination, as this can affect their overall health and well-being.

Check with your vet before travelling to ensure all vaccinations are up-to-date and that your pet is fit for travel.

Bring along a basic first aid kit to cover any unforeseen emergencies.

Consider your dog's age, not all dogs can handle long journeys, and it's important to consider their safety first.
By following these simple tips and doing some research beforehand, you can ensure your pet will have a safe and enjoyable journey with you during your travels.
Conclusion
Travelling with your dog can be an incredibly rewarding and memorable experience, but it's important to plan ahead and ensure you have all the necessary paperwork and vaccinations in order.
With this guide, you should now have all the information you need to safely and confidently travel abroad with your four-legged companion. Bon, voyage!
Sources –